Think you might like to pay us a visit?  Winter hours are limited to mainly weekends.  Please call in advance to verify the gate is open.

850-722-0790.  Leave a message OR text your questions and your call or text will be returned.

We are located at:  16717 Inwoods Drive

                                  Youngstown, FL   32466

Email us for general questions:

Or snail mail:

LSN, Inc​  

P.O. Box 65​  

Fountain, FL 32438

Give us a call, or drop us a line.......we'd love to hear from you!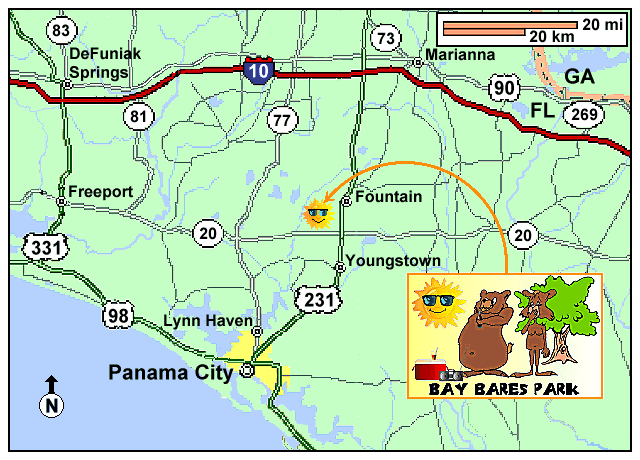 Following is a regional map of Bay County and vicinity. Bay Bares Park is located approximately 25 miles north of Panama City and 75 miles west of Tallahassee, Florida.  The sun icon shows the location of the park. 

(From the intersection of Hwy 231 and Hwy 20, go West on 20.  Go approx 2.5 miles and trn R on Kathy Ln. Follow dirt rd to Inwoods Dr and Trn R. Follow fence line, taking two addition left turns til you see the Baybares gate..